Oneplus one known for its developer support has many custom ROMs developed or being developed for this old device. One of the Best ROM for our bacon that's known for its stability, features and performance is AOSiP a.k.a Android Open Source illusion Project.  AOSiP ROM is a CAF based custom ROM, twisted with the latest features from all over the Android development community.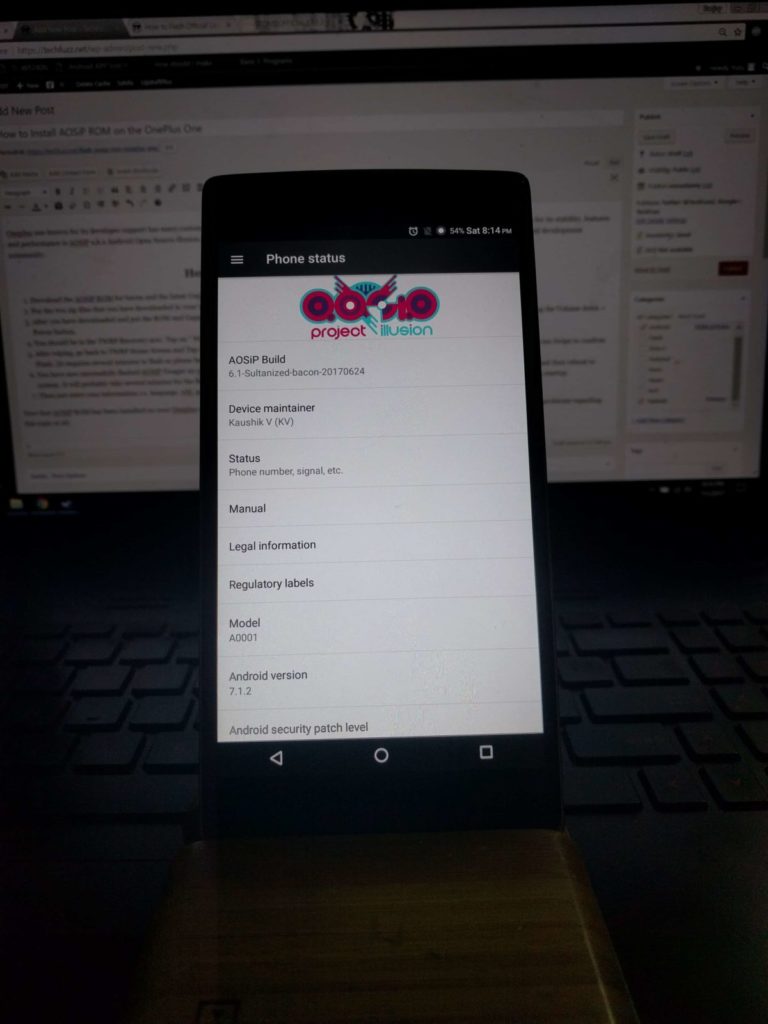 How to Install AOSiP Nougat ROM on the OnePlus One
Download the latest AOSiP ROM zip for bacon and the latest Gapps zip file. Link : AFH
Put the two zip files that you have downloaded in your internal memory of your oneplus one.
After you have downloaded and put the ROM and Gapps on your phone, Reboot to Recovery. You can do this by turning off your phone and then Pressing and holding the Volume down + Power button.
You should be in the TWRP Recovery now. Tap on " Wipe " then " Advanced Wipe " and Select " Dalvik/ART Cache, System, Data, Cache " and then Swipe to Wipe.
After wiping, go back to TWRP Home Screen and Tap on " Install " then select the ROM and then Tap on " Add more Zips " and then select the Gapps. After that, you can Swipe to confirm Flash. [It requires several minutes to flash so please be patient.]
You have now successfully flashed AOSiP Nougat on your Oneplus one. A script succeeded message should appear on TWRP. Now you have to " Wipe cache/dalvik " and then reboot to system. It will probably take several minutes for the boot to succeed till then see the new AOSiP boot animation. After you boot is successful, you will be greeted with a startup.
Then just enter your information i.e. language, wifi, google account,etc.
Now that AOSiP Nougat ROM has been installed on your Oneplus one, install your favorite apps and see how well the ROM performs. If you want to check out their google+ page, here is the link for AOSiP Google+ Community.  Also, Check out the official AOSiP Thread on XDA for more information. Check out the screenshots below as well.
[su_custom_gallery source="media: 770,771″ link="lightbox"]
Let us know in the comments if you have any problems regarding this topic at all. We'll be glad to help!